#LatinaGeeks is proud to partner with Ford Latino to present an awesome opportunity for Latinas who want to learn more about working in tech. Through an engaging panel discussion with successful Latinas in tech, we will hear how panelists got started in their careers and how they worked through the imposter syndrome.
We invite you to join us and build relationships with your #LatinaGeeks community and tech industry professionals at Tortilla Jo's located in the heart of Downtown Disney.
Moderator:
Betty Martinez, Bilingual Account Executive at FSB Public Affairs

Originally from Monterrey, Nuevo Leon, Betty has paved her way up in the PR industry. She is a bilingual account executive at FSB Public Affairs where she handles media relations and community outreach needs for multiple clients.  She also manages the communications efforts and develops campaigns and activations for Ford Latino in the LA market. A strong believer in continuing education, Betty wants to promote the understanding of tech tools and apps that can help professionals stay on task and achieve goals faster. Betty also serves as a founding board member at the Orange County chapter for the Hispanic Public Relations Association.
Panelists:
Annabelle Sedano – Anchor/ Reporter, Univision Communications Inc.
Annabelle Sedano, in over 10 years of her journalism career has covered local, national, and international news ranging from California wildfires to presidential elections. She has been recognized with an Emmy for Outstanding Feature Reporter for her work profiling individuals in the community and reporting on human interest stories. She is one of the anchors for A Primera Hora L.A., covering news, traffic, and is also the tech reporter for "Tu Vida Tech."
In her spare time, Annabelle enjoys attending community events that support issues she is passionate about such as young female empowerment.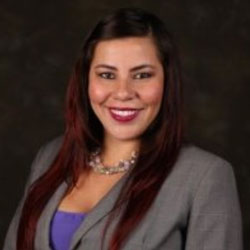 Celeste Castañeda, Lincoln Experience Specialist
Celeste Castañeda is an Orange County native with a Bachelor's degree in Communications from California State University, Fullerton and a Master's in Business Administration from Pepperdine University. Celeste has been in the automotive industry for 8 years in different capacities and has now been with Ford Motor Company for 4 years. Celeste is currently the Lincoln Experience Specialist covering the luxury brand for the West Market Area. She is married with an 18-month old baby girl. She comes from a large family and loves planning vacations.
Evelyn Arias, Outcomes Analyst
Evelyn Arias has more than six years of experience implementing technology and analytics solutions for companies in the public and private sectors. Her clients include Warner Brothers, Herbalife, UCLA School of Medicine, and various two-year colleges in Southern California.
Her talents as a business analyst include building interactive dashboards, conducting data wrangling, data validation, building SQL queries, and gathering business requirements from business users to translate into technical requirements.
Evelyn fell in love with tech in her 7th grade computer class. The class inspired her to lobby her mother for a family computer which she finally received in 8th grade. Evelyn set up and maintained that computer for 10 years -until her next purchase in college. However, as a once undocumented immigrant, Evelyn was also curious about minority culture in the US and issues of education and equity in her community. Her curiosity led her to complete a BA in Anthropology from UCLA and an MA in Education from Cal State LA. After completing her graduate degree, Evelyn blended her love of tech and education by working as a data analyst for various 2-year colleges.
Outside of technology, Evelyn adores West-African drumming and dance, attending cultural events, linguistics, spending time with her son, and looking for more opportunities to support tech education in marginalized communities.

What to Look Forward To:
Join our #LatinaGeeks Orange County Chapter – FREE
Hear from women in tech and learn how they got started
Hear from the Ford Motor Company and learn more about automotive careers
Build new relationships with other amazing Latina geeks
Meet our #LatinaGeeks Team
Enjoy a delicious brunch
PARKING – Parking is available in the Downtown Disney parking lot. A 5-hour validation will be provided.
DOORS WILL CLOSE AT 11 a.m. We do not accept walk-ins. We thank you for understanding.
We're excited to see you there!
About #LatinaGeeks:
#LatinaGeeks is the first-of-its-kind community to empower and inspire Latinas by spreading the knowledge of technology, social media, and entrepreneurship. Since launching in 2012, LatinaGeeks.com shares the latest in technology trends, gadgets, social media, and local tech-startups. In the fall of 2017, the #LatinaGeeks team introduced hands-on coding workshops to their list of resources, among other educational workshops.
Ford Motor Company:
Finding that balance – whether it is as a worker, a woman, a mother or a mentor – is something the women of Ford work on every day. What makes their efforts successful is when we support what they are doing through policies and hiring practices, female employees say. – Ford Motor Company
We Support Local Businesses:
Tortilla Jo's restaurant in Downtown Disney celebrates the culinary heritage of Mexico with authentic south-of-the-border cuisine, table-side guacamole, and a full bar featuring over 100 varieties of tequila. Enjoy the vibrant, pueblo-inspired atmosphere. To book your own private event at this venue, please contact: PLeemhuis@patinagroup.com
Interested in volunteering?
We need volunteers to help make this an amazing event. Visit our website to learn how you can join our team.
Become a sponsor: https://latinageeks.com/sponsor/
#LatinaGeeks events are open to anyone who wants to embrace their inner geek.
FAQs:
Are there ID or minimum age requirements to enter the event?
Yes, attendees must be over 18 years old.
What are my transportation/parking options for getting to and from the event?
You will receive parking validation and instructions will be emailed before the event.
What can I bring into the event?
Bring your notepad and questions
What's the refund policy?
Rain or shine, there are no refunds.
Do I have to bring my printed ticket to the event?
No, you could show us your ticket via a mobile device.
Is my registration fee or ticket transferrable?
Yes, but you would need to contact us to update our records at least two days before the event.
Can I show up at the event in case there is an extra ticket available?
In order to avoid class interruptions and to stay on schedule, we do not accept walk-ins.
#LatinaGeeks events are open to anyone who wants to embrace their inner geek.